Biography
SERGIO QUAGLIARELLA
Drummer/Performer/Producer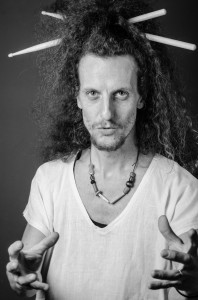 He began play drums as a child, and after having studied classical percussion with the first Maestro Clara Perra and then at the Conservatory S. Pietro a Majella in Naples with the Maestro Antonio Buonomo, embarks on a period of intense study of the drums with the Maestro Walter Scotti (Grand Master of Life ).
At the age of 15 his professional activity began with the club 's first concerts in Naples
and he participated in various workshops of the great drums idols  as : Billy Cobham, Steve Smith, Alfredo Golino, Simon Phillips, Gavin Harrison,
Terry Bozzio.
He helded seminars in Naples where he was an interpreter for Gregg Bissonette, Mel Gaynor and Nashit Waits.
He participated in the "Drum Circle" hosted by:  Artur Hull and Giovanni Imparato.
In 97 with the theater company "LiberaMente" he began a fantastic experience working as a Musician/Actor in a number of shows/performances
staged at the following festivals:
Volterra teatro (siena), Teatro Nuovo (naples), Sant'Arcangelo (rm), Tearto India (rome), Cantieri alla Zisa (palermo), Città della scienza (naples),
Teatro Litta (milan), Real Albergo dei Poveri (naples), Giardini della Filarmonica (rome)
During his years in Naples he collaborated in studios and toured around europe with many musicians/songwriters/band 's at 360 ° between
musical styles: from jazz to electronic, from world music to progressive rock.
In particular with : Presence, Narcolexia, Francesco Forni, E ' Zezi, Carlo D'Angiò, Uazz, La Mescla, DJ Miele, I Bisca, Opa Cupa, Capone&Bungt Bangt.
in 2000, in Naples with his band La Sezione Ritmica, opened the concert with Robert Plant.
In 2003, with the Anglo-Irish band Druids Fluid, opened all the concerts of the Eire/U.K. tour Shane MacGowan & The Popes.
In 2004, he moved to Piedmont, and began playng with the K -Again. U.E. Tour.
In 2005, he began to work with Opa Cupa. 2007 Sziget fest, 2008 U.S.A. tuor.
In 2006, he started to work with Lorenzo"Abu"Gasperoni and Mamud Band.
In 2008, he joined Kabikoff and, since this year, has been working as a producer with :
Black Mitago, Rumor, Suite Solaire, Kabikoff, Mamud Band, Ground Floor, Poison Drums, Nippon Eldorado.
In 2008, he has founded with Massimo Cordovani "Black Mitago".
In 2010, he has collaborated with Carlo D'Angiò.
In 2012/14, he cooperates with MrBobcat.
In 2013, he began to work with Sonata Islands Kommandöh and Nippon Eldorado Kabaret.
In 2014, he has collaborated with Ray Heffernan.